Newdelhi:1/10/18:Chief Justice of India Dipak Misra is vacating his chair today after over an year in office as the top jurist. He became he Chief Justice on August 28 last year. CJI Misra was elevated as a top court judge on October 10, 2011. CJI-designate Ranjan Gogoi will assume charge on Wednesday. A highly scholastic and an avid reader, Justice Misra's 13-month-long tenure was full of events.
He presided over crucial hearings and, in his last 10 days in office, Supreme Court judgements by CJI Misra-led benches became the talk of the nation. From Aadhaar, Article 377 to decriminalising adultery, CJI Misra will be remembered among the Supreme Court judges who pronounced path-breaking judgments.
Aadhaar: A Supreme Court bench headed by CJI Misra last week upheld the constitutional validity of Aadhaar, but struck down Section 57 of the Aadhaar Act. This meant that private companies would no longer be able to use the 12-digit biometric ID-based eKYC. Following this, private companies like telecom operators will not be able to use this instantaneous and inexpensive Aadhaar eKYC route. The top had also ruled that Aadhaar is longer mandatory in banks, schools, UGC and NEET. Apart from these, the apex court said the government can not make Aadhaar mandatory for any social welfare scheme. However, Aadhaar-PAN linking remained valid.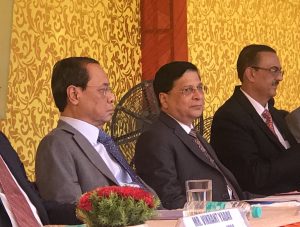 Ayodhya: Among the long list of CJI Misra's verdicts, this one fits as the most sensitive and politically crucial judgment. The Supreme Court last week rejected pleas to refer to a five-judge Constitution bench the issue of reconsideration of the observations in its 1994 judgement that a mosque was not integral to Islam which had arisen during the hearing of the Ayodhya land dispute. In a majority verdict of 2:1, an apex court bench headed by CJI Misra said the civil suit has to be decided on the basis of evidence, adding that the previous verdict has no relevance to this issue. The verdict, effectively, paved way for hearing on the title suit.
Article 377: In another landmark judgement, the Supreme Court last month decriminalised part of Section 377 of the Indian Penal Code that criminalises consensual gay sex, saying it was irrational, indefensible and manifestly arbitrary. CJI Misra again played the pivotal role as he headed the five-judge constitution bench which unanimously ruled that the Lesbian, Gay, Bisexual, Transgender and Queer (LGBTQ) community possess the same constitutional rights as other citizens of the country.
Sabarimala: The prolonged debate over the entry of women of all ages came to an end in the Supreme Court last week. A five-judge constitution bench headed by Chief Justice Dipak Misra, in its 4:1 verdict, stated that banning the entry of women into the shrine is gender discrimination and the practice violates rights of Hindu women.