Newdelhi:27/9/18:Tribes India and TRIFED under the Ministry of Tribal Affairs launched "Punch Tantra Collection and Ms. Mary Kom as Brand Ambassador of Tribes India" at a function here today. Shri Jual Oram, Union Minister for Tribal Affairs introduced the Indian Sporting Legend and the World Boxing Champion Ms. Mary Kom as the Brand Ambassador of "Tribes India" and launched the "Punch Tantra" Diwali collection. Four promotional video spots produced by NFDC featuring Brand Ambassador Ms. Mary Com promoting Tribal products of Tribes India were also released on the occasion.
The Punch Tantra range of tribal artefacts includes handlooms and handicrafts, which are inspired and promoted by the World Boxing Champion Ms Mary Kom. Shri R.C. Meena, Chairman, TRIFED, Shri. Deepak Khandekar, Secretary, M/o Tribal affairs and Shri Pravir Krishna, Managing Director, TRIFED were present.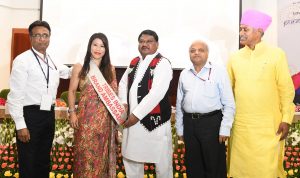 Shri Jual Oram said that the probable potential of TRIFED is much more than many other PSUs under the Government and if utilized properly, it may become a game changer in the Indian economy. He commended the efforts of TRIFED for promoting tribal products through the vast network of Tribes India Showrooms, Aadi Mahotsavs/Exhibitions and various e-commerce platforms namely, Amazon, Flipkart, Snapdeal and GeM which provide a window to National & International markets.  Now TRIFED has opened 103 Sale outlets nationwide and its turnover has also increased 300 times. We have extraordinarily talented tribal artists and master craftsmen and women and their potential needs to be harnessed so that they may become industrialists. In addition, proper marketing strategy should be adopted for sale of diverse tribal products, he added.
Shri Deepak Khandekar said that there are so many tribal products and proper marketing strategies are being adopted by TRIFED and launching Ms Mary Com is a right decision in this direction. The ultimate objective of TRIFED is to work for the betterment of tribal artisans and the Ministry.In his opening remarks, Shri Pravir Krishna said that that all out efforts are being made for increasing livelihood opportunities of tribal artisans and tribal entrepreneurs across the country through various schemes. He said that presently there are one lakh tribal artisans in our country and TRIFED wants to make them skilled master craftsmen and entrepreneurs. He expressed his happiness that the business on e-commerce has now reached to Rs. 10 Lakhs and it is being linked with Mudra and Jan Dhan Bank.
In his vote of thanks, Shri R.C. Meena said that the TRIFED has developed an e-commerce portal www.eshop.tribesindia.com for sale of its products. TRIFED's sole objective is to bring about a multidimensional transformation of the tribal society.