Kalahandi:27/918: Union Skill Development Minister Dharmendra Pradhan on Thursday said the effort is being made to set up Pradhan Mantri Kaushal Kendra (PMKK) in all the districts of Odisha.
"We have initiated the establishment of a PMKK in every district of the country, ensuring last mile delivery of skill development. More than 490 centres have already been established and work is going on to establish the rest," said Pradhan.
He inaugurated a Pradhan Mantri Kaushal Kendra (PMKK) at Dharmagarh in Odisha's Kalahandi district in presence of Sri Sri Ravi Shankar.
"It is a state-of-the-art, aspirational model training centre which will equip the youth of the region with skills and facilitate their empowerment," said Pradhan.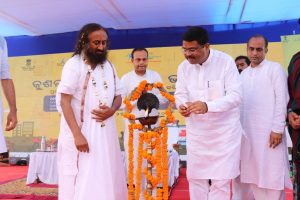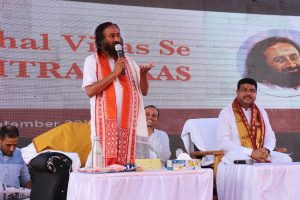 The Minister said this PMKK centre in Kalahandi will deliver skills development courses in five job roles like organic grower, plumber, sewing machine operator, home health aide, electrician and other domestic solutions with the aim to train 1000 candidates annually.
The objective behind PMKK is to empower the youth by providing market relevant skill training and develop entrepreneurship, he added.
"I'm confident that the PMKK will meet the aspirations of youths of Kalahandi, by providing quality skill training & equipping them with the latest technology to lead a dignified life," said Pradhan.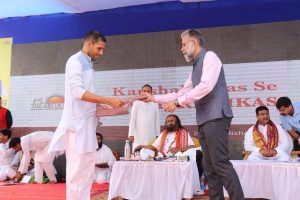 On the occasion, a MoU was exchanged between Beauty and Wellness Sector Skill Council and Sri Sri Rural Development Program Trust for Recognition of prior learning certification on yoga for 20,000 AOL volunteers and Yuvacharyas.
Another MoU was signed between National Skill Development Corporation and Sri Sri Rural Development Program Trust. Under the partnership, skill centres will be set up in 16 jails across the country for the training of inmates.