Chennai:26/9/18: Addressing the leaders and captains of Indian industry at the Odisha Investors' Meet in Chennai in Tamil Nadu on Wednesday,  Odisha Chief Minister Naveen Patnaik invited them all to make investments in Odisha, which is fast emerging as the Eastern Gateway of India.
In the run-up to the Make in Odisha Conclave 2018 (MIO 2018), the Government of Odisha organized an investors' meet in Chennai in association with its industries partner Federation of Indian Chambers of Commerce and Industry (FICCI) today.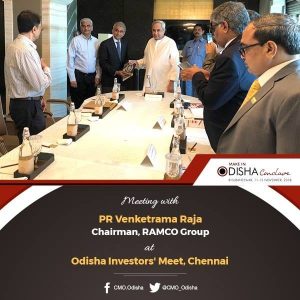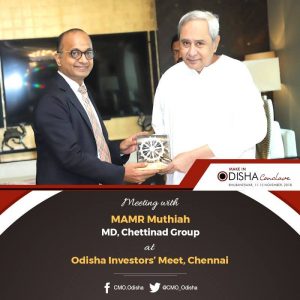 Speaking at the investors' meet, Chief Minister Naveen Patnaik, said, "I take this opportunity to invite you all to participate in the Make in Odisha Conclave – our flagship biennial Global Investors' Meet. The first edition of the Make in Odisha Conclave evoked enthusiastic response with announcement of over INR 2 lakh crores of investment intent. My Government has since demonstrated its commitment to deliver projects on ground. About 65% of the projects are at various stages of approval and implementation.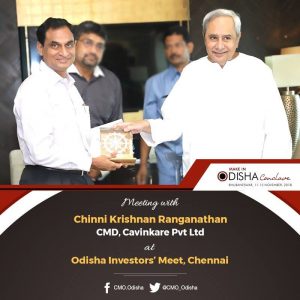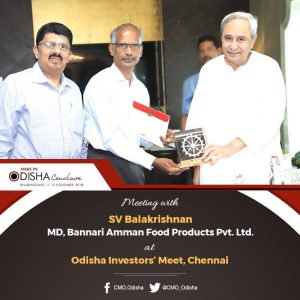 As you are aware, our natural strength lies in being a mineral rich State. During last 18 years of my Government, we have focused on enhancing the production levels of key minerals and value added products. There has been a significant increase in the metal output and today, Odisha is home to major aluminium and steel companies of the country.
Enhancing and strengthening infrastructure has been a priority of my Government over last 18 years. Accordingly, our port capacity has increased ten times to 190 million metric tonnes at present. Similarly, power generation has increased more than threefold and road network has increased over 50 per cent," Patnaik added.
On the occasion, Chief Minister Naveen Patnaik announced the receipt of 400th investment proposal by GO-SWIFT (Govt of Odisha – Single Window Portal for Investor Facilitation and Tracking) in the investors' meet.
Notably, GO-SWIFT has received the 400th investment proposal within a short span of 10 months reflecting rising investor interest in Odisha.
Patnaik also launched the 36-hour Smart Odisha Hackathon in the run up to the Make in Odisha Conclave 2018. He called upon budding entrepreneurs and students to come up with innovative solutions to resolve the pressing challenges of public service delivery as well as those that concern the industry and consumers.  He stated that the shortlisted ideas will be implemented as pilot projects and winners will be awarded attractive prizes.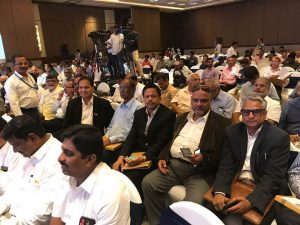 During the meetings with investors, the strategic advantages of Odisha were highlighted such as the low cost of doing business, incentives for investors, dedicated sector-specific clusters and over 1,20,000 acres of land bank available for industrial development.
The industrial infrastructure at National Investment Manufacturing Zone (NIMZ), Kalinganagar, food processing park at Khurdhua and Chhatabar, textile parks at Ramdaspur and Dhamnagar, aluminium parks at Angul and Jharsuguda and the plastics park at Paradip was presented to the investors.
ASSOCHAM has ranked Odisha as the No. 1 state in terms of investment implementation rate and the state is consistently ranked amongst the top 3 States in terms of live manufacturing investments in India.  Odisha has registered a GSDP growth rate of 7.94 percent in 2016-17, surpassing the national growth rate of 7.1 percent.
The roadshow was successful with leading industry captains meeting the Chief Minister during the course of the day. These include meetings with Mr. MM Murugappan, Executive Chairman, Murugappa Group, Ms. Mallika Srinivasan, Chairman, TAFE, Mr. S Ilanahai, MD, Cetex Petrochemicals among others.