CHENNAI:26/9/18: Those from Odisha, planning to visit the city will no longer have trouble finding comfortable accommodation at a reasonable rate.
Odisha Bhawan, the official guest house of Odisha government was inaugurated on Tuesday by Chief Minister Edappadi K Palaniswami and his Odisha counterpart Naveen Patnaik, who will also attend a roadshow of 'Make In Odisha' Conclave on Wednesday.
"With the completion of this facility, we have created an institution that will provide a platform for engagement between Odisha and the State of Tamil Nadu," said Patnaik speaking at the event adding that Chennai is one of the most important metropolises in the country that attracted a large number of Odiyas for employment and business. "This facility will not only provide accommodation, but also showcase the art and culture of Odisha and facilitate public relation activities in the State," he said.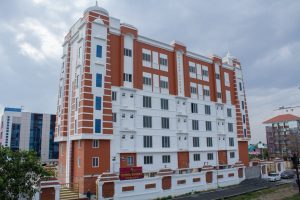 The guesthouse on Velachery-Tambaram Main Road at Pallikaranai, is a symbol signifying increased presence of Odia visitors, students and medical tourists in Tamil Nadu. The complex with 16 double-bedded rooms and five suites has come up at a cost of `22 crore. There is an auditorium having a seating capacity of over 300. This will be the fourth official guesthouse of the State government outside Odisha. The State now has Odisha Bhavan and Odisha Nivas in New Delhi.
Utkal Bhavan serves the needs of people going to Kolkata. The Odisha Bhavan in Mumbai has eight rooms for cancer patients and 20 rooms and two dormitories for the general public. The foundation stone for the bhawan was laid in May 2012 by Patnaik in the presence of the then Tamil Nadu chief minister J Jayalalithaa. At the function, he had thanked her for giving the Odisha government land for construction of the bhawan.