Talcher:22/9/18: Making a long dream of the people of Odisha come true, Prime Minister Narendra Modi today laid foundation stone for revival of a fertilizer plant here.
Accompanied by Odisha Governor Ganeshi Lal, Modi left for Talcher in a special chopper of Air Force for the country's first coal gasification based fertilizer plant project at investment of Rs 13,000 crore after arriving at Bhubaneswar airport in the morning.
Chief Minister Naveen Patnaik was present during foundation stone laying programme in Talcher.
Patnaik thanked Modi for the fertilizer plant, which was a long-standing demand of the State.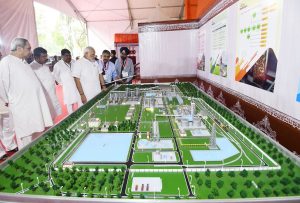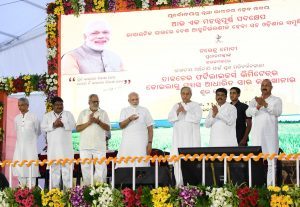 Addressing at the programme, Modi said, "Odisha people had lost hope of the fertilizer plant being revived. But we got opportunity to revive the plant despite hurdles."
The plant will help create a huge employment opportunity. Around 4,500 people will be employed in the region. The fertilizer plant will start production in 36 months, he said during the ceremony in Talcher.
Earlier in the morning, Governor Ganeshi Lal, Odisha Finance Minister Sashi Bhushan Behera, Chief Secretary Aditya Prasad Padhi, DGP Dr RP Sharma and leaders in BJP welcomed him at the airport in Bhubaneswar.
During his one-day visit to Odisha, Modi will launch a slew of projects including two mining projects and inauguration of much-awaited Jharsuguda airport.