Bhubaneswar:22 /9/18:Odisha-born Purnedu S. Mishra has been appointed as the new General Manager (GM) of South Eastern Railway (SER), which has its headquarters at Garden Reach, Kolkata.
Mishra assumed the charge of the post of GM today after his appointment was approved by the Railway Board, an official notification issued in this regard said.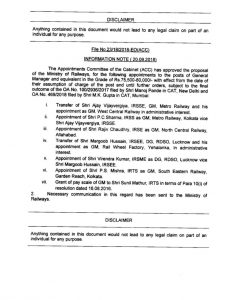 Prior to his new role, Mishra was serving as Princiapl Chief Operations Manager, Western Railway, Mumbai.
Mishra, who has vast knowledge and experience in train, had joined in the Indian Railways Traffic Service in 1982. He has worked in various capacities such as Advisor, Safety & Executive Director (Corporate Co-ordination), Railway Board, Divisional Railway Manager-Raipur, South Central Railway, Chief Transportation Palnning Manager, Souith Eastern Railway.
Besides, he worked asChief Freight Transportation Manager, Chief Transportation Planning Manger and Chief Passenger Transportation Manager both in East Coast and East Central Railways.
Mishra has keen interest in sports and other social and welfare activities.