Bhubaneswar:17/9/18; Veteran freedom fighter and former minister Dolagovinda Pradhan passed away at his Bhubaneswar residence on Monday. He was 93. Pradhan is survived by his wife, four sons and three daughters.
Chief Minister Naveen Patnaik condoled the death of the noted freedom fighter and conveyed his deep sympathy to the bereaved family.
Cutting across party lines many politicians and eminent personalities visited the minister's residence this morning to pay their last respects to the departed soul.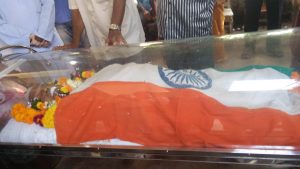 Born on June 7, 1929 in Dihasahi of Cuttack, Pradhan was a strict follower Mahatma Gandhi and his ideology throughout his life. He also took part in the Quit India Movement in 1942 and got imprisoned by the then British government for over three years.
Pradhan started his political career in the independent India by joining Indian National Congress (INC).
He was elected twice as a legislator from Cuttack Sadar constituency from 1980 to 1990. Later, he became the Urban Development Minister of Odisha from 1989 to 1990.