Bhubaneswar:16/9/18: Residents wanting to decorate their homes with tribal products from across the country have a new destination after Union tribal affairs minister Jual Oram on Saturday inaugurated the Tribes India outlet of the Tribal Cooperative Marketing Development Federation of India (Trifed) at Janpath.
At present, Trifed operates through a retail chain of 42 outlets, 33 consignment outlets and 14 franchise outlets across the country through which it promotes and markets a wide range of ethnic and traditional tribal handicraft and handloom products, including dress materials, shirts, kurta, home furnishings and many other gift and home decor products.
The outlet will have a wide range of tribal products, especially saris from Sambalpuri, ikkat, kantha stitch, tusser, traditional dress materials, shirts, yoga mats, curtains and others.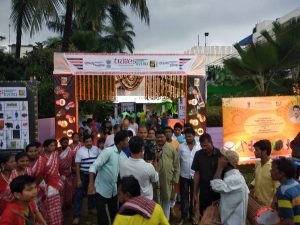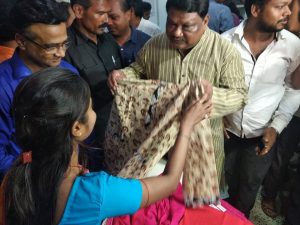 "Under marketing of tribal handloom and handicraft initiatives, a drive to expand supplier base has been initiated and simultaneously, efforts have been initiated to establish and promote a platform under the brand so that marketing opportunities are created on a sustainable basis," said Oram. Trifed is in the process of expanding its outlets all over the country and the shop in Bhubaneshwar is the next step in expanding the network, he said.
Oram added that no stone would be left unturned in empowering the members of tribal communities through trade and all steps were being taken to ensure that they got opportunities for livelihood creation and income generation.
He also lauded Trifed for organising Aadi Mahotsavas across the country where tribal artisans got an opportunity to sell their products to customers and benefit directly.
The Managing Director, TRIFED, Shri Pravir Krishna extended vote of thanks to the Hon'ble Union Minister and other dignitaries, members of the Electronic and Print media and valuable customers, who were present. He also thanked his team for the painstaking efforts made for operationalising this Outlet in such a short duration. He assured that no stone will be left unturned to achieve the targets set for the current financial year.