Bhubaneswar:16/9/18:TRB Iron Ore Mines of Jindal Steel & Power Limited (JSPL) has been conferred with the Pollution Control Appreciation Award in the category of Mines by State Pollution Control Board (SPCB), Odisha for its effective pollution control measures and sound environment practice.
Vice-President and Unit Head of TRB Iron Ore Mines Mr. Pramod Kumar Patra received the award from Development Commissioner-cum-Additional Chief Secretary and the Chairman of SPCB Mr. R. Balakrishnan and Add. Chief Secretary (Forest and Environment) Mr. Suresh Chandra Mahapatra, and Special Secretary (Forest & Environment)-cum-SPCB's Member Secretary Mr. Debidutta Biswal, during the 35th Foundation Day of SBCB held at Bhubaneswar today.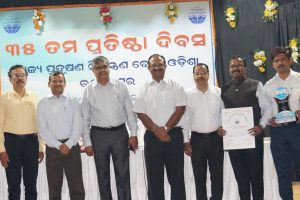 JSPL's CEO – Steel Business Mr. N.A. Ansari congratulated the TRB Iron Ore Mines team for this award and appreciated the team for setting new benchmark in sound environment practice.
Congratulating the employees and workers of the TRB Iron Ore Mines, Mr. Patra said, "JSPL is always committed for sound environmental management practices at all its operations. This Award is recognition of our sustainable environment management initiatives and effective pollution control measures for conservation and promotion of green and clean environment".
TRB Iron Ore mines has adopted innovative and latest technology and process like wet drilling practice, haulage road dust control through fixed water sprinkler, dry fog system at crushing and screening plant, dump management through indigenous species and coir matting, run off management through multiple check dams and settling tanks for minimizing water and air pollution.
The Mines has installed a 200 KLD Sewage Treatment Plant (STP) and Zero Waste Effluent Treatment Plant (ETP) for managing waste water management. More than 275000 saplings have been planted by the mines to develop greenery in the area.
JSPL's TRB Iron Ore mines had recently received the prestigious Total Productive Maintenance (TPM) Award-2017 (Category-B) from the Japan Institute of Plant Maintenance (JIPM), Tokyo, Japan and had won first prize for cleanliness in Iron Ore Group-A2 category during "Swachhata Pakhwada" (Cleanliness Fortnight) observed under the aegis of Directorate General of Mines Safety, Chaibasa Region.