Bhubaneswar:14/9/18:Kolkata  Fashion  Bazar  (KFB) Thursday  opened  its first store in state capital near KalpanaSquare  spread  across 10,00square feet.Odla  film actress Poonam  Mishra had unveiled the store on the auspicious  cccassion of GaneshPuja.
This is the third store in Odisha. Previous   two stores have been opened  at Cuttack and Dhenkanal.Talking  to media,  CMO of  Amrit Retailers GouriShankar  Goenka said, "We aim to provide garments,  sarees  and accessories at reasonable  prices with good  quality  Our store is good for both middle class and lower middle class people."Goenka   also claimed that the store will provide best fashion collections from different metro cities.  Goenkaa expected to have revenue of 10 to 15 cores in a year from the new store. "We hope to do good business here because we provide good quality products at affordable prices," he said.Sj.Sankar Gupata,CMD,SGBL India  who had grace the occasion as chief guest said that ' Situated at one of the largest shopping destinations in Bhubaneswar, this outpost of Kolkata  Fashion  Bazar uniquely smart  cloth buying experience.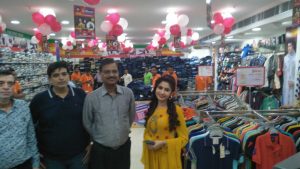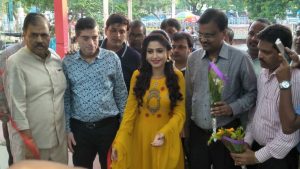 Director of company Manish Tulshyan said "In online retail, Bhubaneswar has always been a great market for us and setting up a store here was a natural step forward. It also offers tremendous potential as the gateway into the eastern market and we want to lay a strong foundation for growth." Tulshyan further added. In an inaugural ceremony Nitesh Goenka, Nitin Goenka and chief of Hemaraj  Advertising  Laxmi Naryan Agrawal has also present
In an inaugural ceremony every purchase has covered a consolation prize, Beside that those who purchase garment worth 1500 will get Launch box, serving set will be offered for the total purchase of 3000, Doffal Bag and dinner set being gifted for 5ooo &10,000 of purchase respectively. Even some of the garment also covered buy one get one offer.