Bhubaneswar:12/9/18: Senior Biju Janata Dal (BJD) leader and former minister Damodar Rout has been dismissed from the party today evening. The dismissal came as a big blow to rout who had earlier served as the vice president of BJD.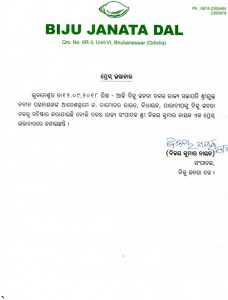 In a press release, BJD state secretary Bijay Kumar Nayak informed that Damodar Rout, MLA Paradeep constituency has been expelled from BJD as per orders of the party supremo and Chief Minister Naveen Nayak.
Rout had drawn the party's ire following his controversial statement over scams. BJD leaders from Jagatsinghpur had approached Naveen alleging 'anti-party' activities by the former BJD veteran.
The Chief Minister had assured of actions against the politician after returning from Investors' Meet in New Delhi