Bhubaneswar:10/9/18: Soon after commencement of the House, Speaker Pradip Amat adjourned the Odisha Assembly adjourned till tomorrow following a ruckus by Congress and BJP members over fuel price hike and alleged irregularities in Omfed.
As soon as the House assembled for the day, Congress MLAs staged a protest inside the House shouting anti-Government slogans over fuel price hike.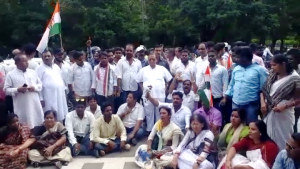 Besides, BJP leaders raised slogans against the alleged irregularities in Omfed to the tune of Rs 30 crore. Unable to run the Hose, the Speaker adjourned the House till 10.30 AM tomorrow.
In reaction, BJD Spokesperson Sameer Dash said the pandemonium created by both the parties in the House leading to its adjournment is unfortunate.Earlier in the day, OPCC president Niranjan Patnaik along with party members sat on a dharna in front of the Assembly main gate protesting fuel price hike. The party activists also attempted to barge into the Assembly premises. Besides, party women activists made human chain as a mark of protest.