Bhubaneswar:9/9/18: Chief Minister Naveen Patnaik inaugurated Parvati Giri Mega Lift Irrigation Project through video conferencing from the state secretariat here on Saturday. A total of 41 irrigation points was opened.
The mega lift irrigation project will provide water to more 50 thousand hectares of agricultural land in nine districts of the state.
Stating that irrigation is the most vital element for agriculture, the CM said, "It was a pledge to provide water to 10 lakh hectares of agricultural land by 2019 and so far the state government has efficiently provided water to 7 lakh hectares of land across the state." Irrigation facility to more than 3 lakh hectors of land will be provided very soon, he added.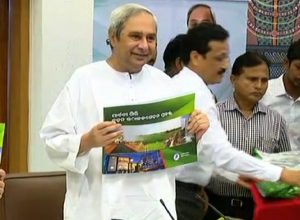 Patnaik further said, "The Parvati Giri Mega Lift Irrigation Project would benefit lakhs of farmers in the high areas. The state government will spend Rs 10,000 crore for the irrigation project in the next five years so that more farmers would get the benefit."
Senior Congress leader and leader of opposition Narasingha Mishra, who was also present in the inaugural event, praised the state government for working effectively towards the development of the farmers, as promised earlier.
Mishra also urged the CM to take steps towards providing water through lift irrigation projects in Bolangir district.
It may be mentioned here that the state government plans to provide water through lift irrigation to more than 27.86 lakh hectares of land through 199 schemes in 23 districts of Odisha.
The 41 lift irrigation points opened today will provide water to more 50 thousand hectors of land in nine districts which are Gajapati, Kalahandi, Nabarangpur, Bolangir, Bargarh, Jharsuguda, Sambalpur, Boudh and Subarnapur.
According to reports, water facility would be provided to more than 1 lakh hectors of land through 80 projects by March, 2019.
On the occasion, the chief minister unveiled a book which explains the overall details of the Parvati Giri Mega Lift Irrigation Project. Besides, Patnaik also interacted with the farmers present in the video conferencing session across the nine districts.
Law minister Sashi Bhusan Behera, Agriculture minister Pradeep Maharathy, Food Supplies minister Surya Narayan Patro, Water Resource minister Niranjan Pujari and Chief Secretary Aditya Prasad Padhi were also present on the occasion.