Bhubaneswar:9/9/18: The five-day-long 24thGuru Kelucharan Mohapatra Award Festival concluded at the Rabindra Mandap auditorium here on Sunday evening with presentation of the prestigious awards named after the legendary Odissi artiste.This year, the jury of the OMC Guru Kelucharan Mohapatra Award Festival presented the NALCO Guru Kelucharan Mohapatra Award to Dr.Sachi Das for his contribution to the field of Theatre and Dramatics and to Sri Lingaraj Behera for his immense contribution to Odissi Dance. Additionally, the NALCO Guru Kelucharan Mohapatra Yuva Prativa Samman was presented to four meritorious young artistes in the area of classical dances and Odissi music for their continuous outstanding performances.They are Smt. Sonali Mohapatra (Bhubaneswar) & Sri Subikash Mukherjee (Kolkata) for Odissi Dance, Smt. Swati Sinha (New Delhi) for Kathaka Sri Rohan Suresh Dahale (Mumbai) for Odissi Music. A book namely Dancing into Eternity – An endearing view of his multifaceted life and work of Guru Kelucharan Mohapatra published by Ratikanta Mohapatra, Director, Srjan was inaugurated by the esteemed guest on this auspicious concluding evening of OMC Guru Kelucharan Mohapatra Award Festival.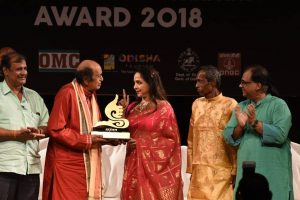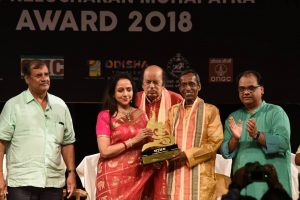 The ceremony was inaugurated in the presence of distinguished guests, Smt. Hema Malini, Reputed Cine Actress, Sri Ashok Charan Panda, Hon'ble Minister, Tourism and Culture, Government of Odisha and Sri Manoranjan Panigrahi, Principal Secy, OLLC, Government of Odisha,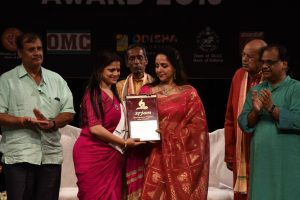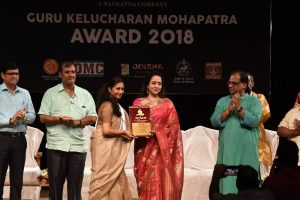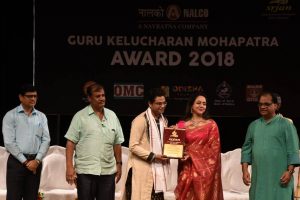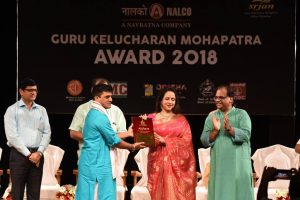 After the award presentation, the host institution, Srjan opened the evening with Kirwani Madhurima, a neo-classical Odissi dance presentation, scripted by Pt. Nityananda Misra to the original music composition of Dr.Vyzarsu Balasubramaniam and the choreography of Sri Ratikant Mohapatra. They then presented a special performance– "Maati", derived from an inspiring and popular poem by the iconic Odia poet Sri Radha Mohan Gadanayak. The dance choreography was done by Ratikant Mohapatra. The music composition is by Laxmikant Palit and the script adaptation is by Jaydev Das. Dancers, Smt. Rajashri Praharaj, Ritu Sengupta, Pragna Parimita Das, Riyanka Chakrabarty, Aishwariya Singhdev, Sipra Swain, Maya Krishnamurty, Preetisha Mohapatra and Reebdhita Barua presented this exemplary composition with great energy and synchronization.