New Delhi: 6/9/18:It's not a crime to have sex between adult homosexuals, live update from Supreme Court. On Thursday Deepak Mishar Ji the Chief justice who headed constitutional bench of the Supreme Court discontinued gay relations with consent between two adults, Section 377 The Supreme Court has said that Section 377 has been declared arbitrary and to honor the personal election. Let the court decide on July 17 after hearing the 4-day hearing on the apex court.People of LGBT community are celebrating after the Supreme Court decision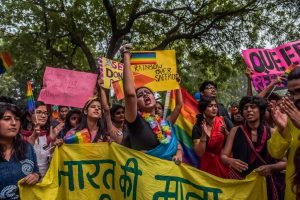 What is in section 377?
Section 377 describes the 'unnatural sexual relations' as a crime. According to this, whoever commits sexual relations with any man, woman or animal, in accordance with the law of nature, can be sentenced to life imprisonment or imprisonment for ten years or fine.
Different petitions were filed in the Supreme Court of the Supreme Court against this arrangement. Under these petitions, the consent of the two adults to declare gay sexual relations under section 377 of the offense was declared illegal and unconstitutional.
This issue was first raised by the NGO Foundation in the Delhi High Court in 2001. With the consent of the High Court, it was declared illegal in 2009 by the consent of the two adults excluding the gay relationship from the category of crime.
High Court Decision Reverse
However, the Supreme Court canceled the said High Court order in 2013. The Supreme Court also dismissed the petitions filed for reconsideration of its decision. After this, corrective pleas have been filed which is still pending in the court.
On the issue on July 10, the hearing was made by the Constitution Bench that it will not consider corrective petitions but only in case the new petitions will be seen.