Bhubaneswar:1/9/18: Gracing the nationwide launching of 'India Post Payments Bank' (IPPB) as the chief guest, Union Petroleum & Natural Gas and Skill Development & Entrepreneurship Minister Dharmendra Pradhan today inaugurated the IPPB Branch here.
In Odisha, 33 IPPB branches and 165 Access Points have been launched and remaining 8050 Access Points will be rolled out by December 31 this year, the Odisha Circle Chief Postmaster General stated.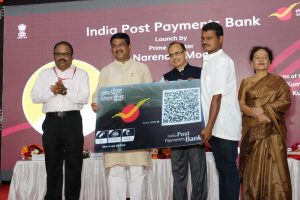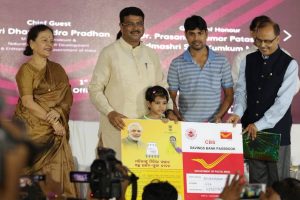 Odisha Circle Chief Postmaster General Santosh Kumar Kamila informed, "We have total 8215 post offices in Odisha, which will work as Access Points. Workforce consisting of 1367 postmen and 7009 delivery agents in Branch Post Offices will provide doorstep banking in Odisha."
It was also informed that IPPB will make banking and payment simple. Using Aadhar, it will open paperless accounts in minutes and allow customers to make digital transactions with the help of QR cards and biometric authentication. There will be no need of passbook. As per payments bank guidelines, IPPB will partner with financial organizations to provide loans, investments and insurance products.
On this occasion, a special cover on IPPB was also released by the Chief Postmaster General and presented to all the guests.
The QR card was also issued to the new IPPB account holders. Besides Dharmendra Pradhan, the launching ceremony was also graced by Padmashri Awardee Kumkum Mohanty.