/Bolangir:31/8/18; Just a few days after his comments that people of Odisha should not be deprived of the benefits of world's largest healthcare coverage plan – Ayushman Bharat – on the grounds of political differences, Union Health Minister JP Nadda today urged the State Government to implement the Centre's flagship healthcare scheme along with its own Biju Swasthya Kalyan programme for better health protection for the people.
Nadda made his suggestion at the inauguration of Bhima Bhoi Medical College and Hospital in Bolangir by Chief Minister Naveen Patnaik.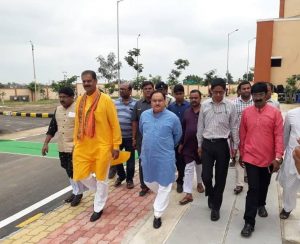 "I urge the chief minister to adopt the Ayushman Bharat scheme of the central government along with the state's own programme. Both the Centre and the state should work together for protection of people's health," he said.
The Centre has always supported the state government in strengthening its health system, the Union minister said.
If Odisha does not implement the Ayushman Bharat scheme, many who need the benefits most may/ be deprived of them, he said, adding people covered under the central scheme would be able to get free health service even outside their states./