Bolangir:31/8/18; Chief Minister Naveen Patnaik today inaugurated the newly-built Bhima Bhoi Medical College and Hospital in Bolangir district. Union Health Minister JP Nadda was also present on the occasion.
On the occasion Patnaik paid tribute to the legendary poet and asked the students to follow the path of the noble man and work towards the benefit of the society.
Patnaik said, "The state government is taking necessary steps to provide better healthcare facilities in the tribal-dominated districts. In the year 2000, there were only 321 MBBS seats in Odisha, but now with the introduction of three new medical colleges the number has gone up to 950."
He said added that the number of MBBS seats in the state will reach 1050 after the inauguration of Fakir Mohan Medical College and Hospital in Balasore next month.The Chief Minister also advised the medicos to keep their noble profession intact by helping the poor and needy. He also cited that the people of the Odisha will get free health service under the Biju Swasthya Kalyan Yojna launched on August 15.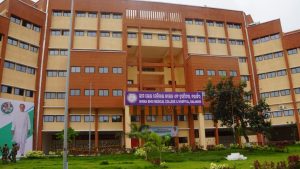 Notably, Bhima Bhoi Medical College has been built with an expenditure of Rs 187 crore, in which Centre has provided Rs 122 crore and the state government has given 75 crore. Similarly, the hospital section has been built with a cost of Rs 143 crore, in which Centre and Odisha government have shared Rs 113 crore and Rs 30 crore respectively.
The campus sprawls over a 25-acre area provided by the state government. Besides, the Odisha Government will manage the administration of the college-cum-hospital and will pay salaries of doctors including hospital and college staff, an official release stated.
The new institution has been named after legendary poet Bhima Bhoi, popularly known as 'Santh Kabi' who preached and propagated Mahima Dharma and professed the philosophy of Sunyabada (nothingness) in the state. The Admissions for 100 MBBS seats in the medical college began from 2018-19 academic session.