Bhubaneswar:30/8/18: Union MSME Minister Giriraj Singh on Thursday said 'One District One Product' scheme will soon be launched in Odisha to make small industries successful in the state.
He asked the Union MSME secretary Arun Panda to conduct a survey of districts in Odisha on the potentials of starting new MSME units in aromatic, agro, marine food processing, organic food marketing, turmeric and ginger processing and other section.
Singh was addressing the inaugural function of the SC-ST State Conclave cum Exhibition under National SC-ST Hub.
Singh said farmers of Kandhamal district will be taken to Maharashtra for a field visit to witness agro clusters in that state and 50,000 agro-entrepreneurs will be imparted training in Odisha.
The Union Minister said the Centre has a plan to make 18 lakh new youth entrepreneurs in the coming days.
Union Petroleum Minister Dharmendra Pradhan said National SC-ST hub launched by Prime Minister Narendra Modi has become a mass movement in the MSME sector.
This initiative is a unique program of grooming the SC-ST entrepreneurs who can create job opportunities for hundreds of youths, he added.
The Minister said the common facility centre set up in the new Integrated Marketing Development Center, 'Dharmapada Bhawan' will impart quality skill training and provide information as well as guidance to aspiring SC-ST entrepreneurs.
Union Tribal Affairs Minister Jual Oram advised young entrepreneurs to start new ventures to sell minor forest produces and organic Agri products available in tribal-dominated districts.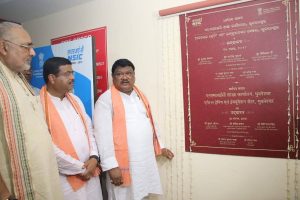 Dharampada Bhawan – a one-stop shop for MSMEs
The conclave coincided with the inauguration of National Small Industries Corporation's (NSIC) largest office building in eastern India, Dharampada Bhawan, which is an Integrated Marketing Development Centre (IMDC).
It is a 3-star GRIHA rated green building, having a built-up area of approx. 1,10,000 sq. ft. and is located inMancheswar Industrial Area, Bhubaneswar.
The new building will be having offices of various agencies like National Skill Development Corporation (NSDC), National Skill Training Institute (NSTI), etc. which will be working with NSIC for providing integrated support to various MSMEs including SC/ST MSMEs.
It will also have NSIC's National SC-ST Hub Office (NSSHO) which will provide hand-holding to SC-ST enterprises through assistance in participation in CPSE tenders and subsequent empanelment, support in availing government schemes, finance facilitation, etc.