Newdelhi:29/8/18:Shri Thaawarchand Gehlot, Union Minister for Social Justice & Empowerment presented "Dr. Ambedkar National Merit Awards- 2017" to meritorious SC/ST students at function organized by Dr. Ambedkar Foundation under Ministry of Social Justice and Empowerment here today. The Ministers of State for Social Justice & Empowerment Shri Krishan Pal Gurjar, Shri Vijay Sampla and Joint Secretary & Member Secretary, Dr. Ambedkar Foundation Ms. Rashmi Chowdhary were present on the occasion.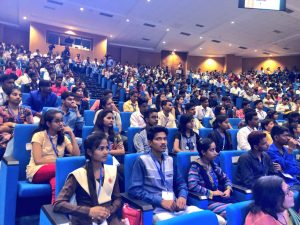 Addressing the awardee students, Shri Thaawarchand Gehlot said that it is very heartening to know that 27 students have secured 99% marks in their examinations and many more students have secured more than 90% marks in their examination. He opined that the Sports and physical activities should also be incorporated in the curriculum as Sports activities make a person disciplined. He said that today's National Merit Awards presentation will encourage other promising students to perform better. He appreciated the efforts of Dr. Ambedkar Foundation and said that it is working with the objective to implement programmes and activities for furthering the ideology and message of Dr. Ambedkar among the masses in India as well as abroad.
Dr. Ambedkar Foundation (DAF) was set up on 24th March, 1992 and the Union Minister for Social Justice and Empowerment is the Chairperson of the Foundation. The award scheme was started in year 2002-03 and is being implemented by the Dr. Ambedkar Foundation for recognizing meritorious performance of the SC/ST students of Secondary School Examination (class 10th) & for SC Students at the Senior Secondary School Examination (12th) level in all Streams i.e. Science, Humanities and Commerce. The Information regarding the performance was sought/obtained by the Foundation from all 29 Central/State Boards in the Country.
For the Dr. Ambedkar National Merit Awards -2017, for the year 2017, there were 336 Awardees at the Secondary school level and 529 Awardees at the Sr. Secondary level across 29 Boards/ Councils in India.  Out of this, 190 Awardees i.e. 104 at Secondary and 84 at Senior Secondary level participated in the Award function today.
Under the Scheme, the Cash Award @ Rs 60, 000/-, Rs.50, 000/- and Rs.40, 000/- is given to the 1st, 2nd and 3rd highest marks holders respectively (amongst the category), along with a Merit Citation and Books on Dr. Ambedkar and a copy of the Constitution of India to the Awardees. Girl students securing highest marks, in case the above list does not include a girl student, are also given cash award @ Rs.40, 000/-. In addition, 250 no. of special merit awards @ Rs.10,000/- each is given to SC & ST students securing next highest marks, after first, second and third position, based on the state-wise population of SC & ST.
The eligibility criteria for this Merit Awards scheme is as follows :
(i) Students should belong to Scheduled Castes (SC) or Scheduled Tribe (ST) for 10th Standard;
(ii) In respect of Senior Secondary Board (12th Standard), the student belonging to SC category only;
(iii) There shall be separate awards for SCs and STs categories.
(iv) The student should have appeared in any of the recognized State/Central Board of Secondary Education/ICSE and scored not less than 50% marks in aggregate in the Secondary School Examination (10th Class and 12th Class).
Each year, the Foundation invites the students/awardees along with one escort each to the Award Function and they are paid actual train/bus return fair by sleeper class from their place of study or from their hometown. Their accommodation, food, local travels, visits to Parliament House, Ambedkar Museum etc. are also borne by the Foundation.