Bhubaneswar:28/8/18: Odisha has made remarkable progress in the implementation of Atal Mission for Rejuvenation and Urban Transformation () scheme in nine towns of the state.
The state has come up to second position in implementation of the projects as per the National Level Rating Framework assessment up to August 21.
Available data show Odisha has achieved 2nd position by scoring 53.19 marks in National Rating Framework by August 21 while Andhra Pradesh has grabbed 1st position by scoring 54.11 marks.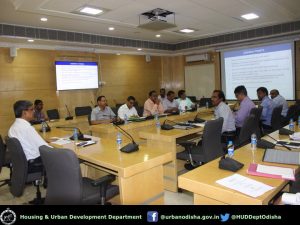 This was known from State Level High Power Committee held under the Chairmanship of Chief Secretary Aditya Prasad Padhi in secretariat conference hall today wherein Secretary Housing and Urban Development G. Mathivathnan outlined the issues for discussion and Mission Director Prem Kumar Jha presented the updates for discussion.
Taking review of the projects, Padhi directed the department to cover all households and entire population in AMRUT cities through pipe wafer supply as a priority. He further directed to complete the projects well before time while safeguarding the quality of project and ensure delivery of service to the people by the scheduled time.
During the meeting, it was decided to prioritise the projects in order of drinking water, sewerage/ septage and parks and playgrounds. Review showed that as of now a total number of 192 projects have been approved and taken up under AMRUT scheme. This includes 130 water supply projects, 14 storage projects and 48 park projects. All these projects have been tendered out and tender awards have been issued against 187 projects.