Mumbai:27/8/18:The Union Minister for Finance and Corporate Affairs Shri Arun Jailtley has said that India may probably become the fifth largest economy next year. Given the kind of economic activity happening in India, he said that the role of the banking industry is going to be vital in strengthening the economy itself. He said that the sector should do this by upholding professionalism, credibility and expansion. He said that the industry needs to use the occasion of AGM to introspect and prepare a blueprint for the long term. The Minister was speaking via video conference, addressing the 71st Annual General Meeting of the Indian Banks Association, held in Mumbai today.
The Finance Minister said that the desire to have a high growth rate must be accompanied by strong macroeconomic fundamentals. He said that sacrificing the fundamentals for temporary spurt in growth is not desirable. The Minister said that growth with fiscal prudence is necessary.
Shri Jaitley said that indiscriminate lending done in the past created funding of projects which were not able to service those debts. He observed that this was followed by the subsequent error of dressing up the bad loans. He noted that excessive fear of consequences in the old regime led to a situation where this problem could not be resolved.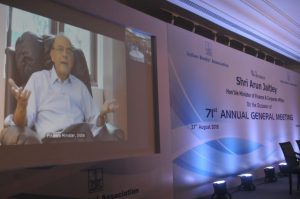 The Minister stated that creation of the Insolvency & Bankruptcy Code has redefined the creditor-lender relationship in India. He said that the need now is to expedite the process.
He said that amendment to Section 29A of Insolvency and Bankruptcy Code will prevent defaulting promoters from bidding for their own assets. He added that a pre-liberalization Prevention of Corruption Act (PCA) could not attract the penal provisions for corruption, and that the amended PCA empowers civil servants in making bonafide bold decisions, thereby empowering bankers and other decision makers too.
Speaking about the growth of the banking sector and its role in the growth of the economy, the Minister said that the achievements of Jan Dhan Yojana, MUDRA Yojana and the low-cost insurance schemes are commendable. He added that it is no small achievement for the banking sector to have reached every household.
He said that the banking institutions are the heart and soul of the economy. Shri Jaitley said that the contribution of the banking sector towards nation-building, especially in terms of support to industry, is invaluable.
Shri Jaitley said that India is continuing its run as a fast-growing economy, and that it will continue to be in this sweet spot.Chairman, Shri Shyam Srinivasan said that the IBA has played a noteworthy role in helping banks deal with the challenges of the times and to stay relevant. Other officials of IBA and leading bankers were present at the occasion.