Bhubaneswar:24/8/18 The Odisha Legislative Assembly felicitated 24 MLAs with the Best Legislator Award at a function here on Friday. The selected MLAs were given the awards in three categories for their notable performance.
The three categories are: Pandit Nilakantha Samman, Utkalmani Gopabandhu Samman and Utkal Gourab Madhusudan Samman.
The award had not been presented to the legislators for last nine years.
Chief Minister Naveen Patnaik and Speaker Pradip Amat presented the awards to the best legislators from 2009 to 2016.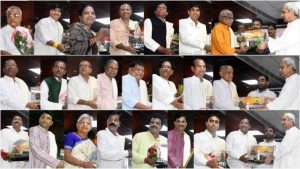 Addressing the gathering, the Chief Minister said, "I am glad that Odisha Legislative Assembly has maintained the high tradition of honouring distinguished legislators for their contribution to enrich our parliamentary democracy."
Pandit Nilakantha Samman was given to Bishnu Charan Das for the year 2009, Arun Kumar Sahoo (2010), Pravat Ranjan Biswal (2011), Prafulla Majhi (2012), Amar Prasad Satpathy (2013), Pramila Mallick (2014), Ranendra Pratap Swain (2015) and Dr Ramesh Chandra Chyau Patnaik for the year 2016.
Utkal Gourab Madhusudan Samman was awarded to Surendra Nath Naik (2009), Bimbadhar Kuanr (2010), Nityananda Pradhan (2011), Umesh Chandra Swain (2012), Bikram Keshari Barma (2013), Rajendra Dholakia (2014), Surendra Prasad Pramanik (2015) and Chakradhar Paik (2016).
Similarly, Utkalmani Gopabandhu Samman was conferred on Sanjay Dasburma for 2009, Pritiranjan Gharai (2010), Samir Ranjan Dash (2011), Prashant Kumar Muduli (2012), Bijay Kumar Mohanty (2013), Dr. Raseswari Panigrahi (2014), Captain Dibya Shankar Mishra (2015) and Pradip Purohit for 2016.