Noamundi, August 23, 2018:Promoting sports as a way of life in its areas of operation, the first Inter-Panchayat Football Tournament by Tata Steel at Sports Complex, Noamundi kicked- off in great style on 22August,2018.Mr Manish Mishra, General Manager, Ore Mines & Quarries (OMQ) Division, Tata Steel graced the occasion as Chief Guest along with Mr Sourav Roy, Chief, Corporate Social Responsibility, Tata Steel.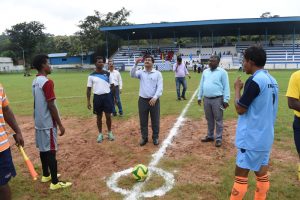 A total of 13 Panchayats from Noamundi and Joda blocks in West Singhbhum district of Jharkhand and Keonjhar district of Odisha will contest for the maiden Inter-Panchayat Football Tournament title. The Panchayats ,namely, Noamundi, Bhangaon, Diriburu, Kotgarh, Deojhar, Khasmahudi, Dukasai, Toretopa, Ansaikela, Silajoda, Kadajamda, Dudhbila and Pokhari are participating in the tournament.  A total of 22 matches will be played, the finals of which will be played on August 29, 2018. All qualifying matches will be played for a duration of 50 minutes and the final match will be played for a duration of 60 minutes.  Everyday 3 matches will be played in the qualifying round from 2:00 PM onwards.
Speaking on the occasion, Mr Mishra said: " Sports acts as an excellent platform that binds everyone together. This initiative provides yet another opportunity to bring local communities together, thereby, having a larger social and cultural impact. "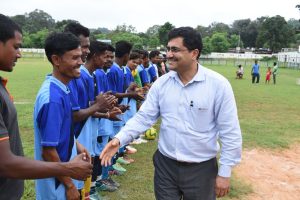 The opening match played between Diriburu and Kotgarh was won by Diriburu, the second match played between Deojhar and Khasmahudi ended in a draw. The third and the final match played for the day between Dukasai and Pokhapi was won by Dukasai with ease scoring 6 goals through Pokharpi's defence.  The football tournament marks the beginning of the week-long celebration of Sir Dorab Tata's Birth Anniversary, who contributed immensely in upbringing the Indian sporting talent to the global front.Present on the occasion were Mr Surendra Chatomba, MANKI, Kotgarh PIR(West), Mr Ghasua Barjo, Munda, Dukasai, Ms Rebati Purti, Mukhiya, Kadajamda Panchayat, Ms Mukta Jerai, Mukhiya, Bhangaon, Panchayat, Ms Putul Purty, Mukhiya, Bhalijhor Panchayat, Ms Yashomati Tiriya, Mukhiya, Kotgarh Panchayat, Ms Rani Tiriya, Mukhiya, Dudhbila Panchayat, Mr Raj Barjo, Mukhiya, Mahudi Panchayat, Mr Narayan Chatomba, Munda, Dudhbila village, Mr Dussa Laguri, Munda, Sarbil village, Mr Ramjivan Behra, Munda Bhangaon, Mr Hemant Kumar Mahatoh, Munda, Silajoda village and Mr Sibo Munda, Ward Member, Sialjoda village, Deojhar Panchayat along with senior Tata Steel officials.