Bolangir:20/8/18:  Odia movie 'Patnagarh' -based on a real-life incident which claimed the lives of a newly-married man and his grandmother in Bolangir district has landed in controversy before its release.
Reportedly, Rabindra Sahu, father of the deceased man Soumya Sekhar, today filed a written complaint with Patnagarh police against the film makers.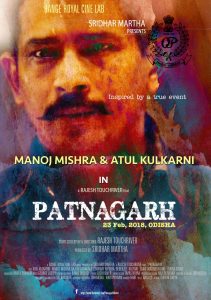 In statement to the media, Rabindra said, "The incident was a great loss of my family and we are still suffering from the trauma. Filming of a movie based on the tragic incident has hurt our sentiments."
Rabindra has lodged a complaint against the director and producer of the film project.
It may be mentioned here that National Award-winning director Rajesh Touchriver and producer Sridhar Martha who are currently working on the movie had released the first teaser of the film as few days ago.
Bollywood actor Atul Kulkarni and Ollywood star Manoj Mishra will also be seen in the upcoming bilingual movie. While Kulkarni will play the role of Crime Branch IG Arun Bothra, Manoj will be seen as Punjilal Meher- the mastermind behind the blast.