Berhampur:18/8/18: At least 14 skilled labourers from Odisha's Ganjam district are reportedly enslaved in Saudi Arab undergoing harrowing ordeal.
Physically tortured and held captive by their employers, the workers are stuck in the alien country crying for freedom.
The tale of torture of skilled labourers who are from villages of Khalikote tehsil has come to light with the stranded labourers uploading a video message narrating their plight.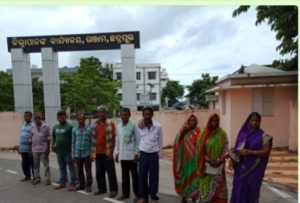 In a bid to seek greener pastures, the skilled labourers had made their way to the oil-rich country through a local labour contractor. However after landing at kingdom nation, they found that they have been taken for a ride. As against hefty wage package assured to them, they were grossly underpaid. Show of protest was silence with use of force. They were allegedly on the verge of starvation as the employers are not providing two square meals a day, the victims alleged in a video message.
The migrant workers who are stranded in Aran are Sunil Pradhan, Satya Narayan Bagada, Pravat Kumar Barik, Tunguru Pahana, Jitendra Parida, Santosh Mallick, Sushant Kumar Pandi, Bhikari Pradhan, Basant Prusty, Banamali Jena, Shushant Pahan, Psanant Nahaka, Arun Gouda and Prakash Pradhan.