Bhubaneswr:17/8/18:National Aluminium Company limited, the Odisha-based Navratna CPSE, under Ministry of Mines, Govt. of India, has a taken a step further towards the promotion of art and culture by signing a Memorandum of Understanding with Vrindaban Gurukul Trust of Flute Maestro Padma Vibhushan Pandit Hariprasad Chaurasia. This MoU aims at providing a platform for industry-culture interface, which would take the cultural heritage of the country and Odisha in specific, to the international level.
Speaking on this occasion, Dr. Tapan Kumar Chand, CMD, NALCO, said : "This is a reiteration of NALCO's commitment towards promotion of art and culture of Odisha. This industry-culture interaction would boost culturally-adaptive business environment in the State, which will take Brand Odisha to a higher position across the globe."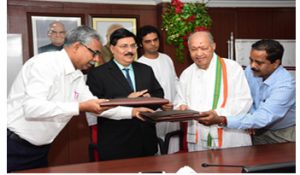 Padma Vibhushan Pandit Hariprasad Chaurasia said that Vrindaban Gurukul will effectively cooperate and collaborate with NALCO for promoting cultural excellence in Odisha.
As per the MoU, with the theme 'Cultural Excellence: Cultural Efflorescence', both NALCO and Vrindaban Gurukul Trust will work together in a collaborative and cooperative way for the promotion of cultural excellence of Odisha and will take special steps for promotion of Indian Classical Music in general and "Flute" in particular by enabling poor students to undertake quality training, so as to make them qualified to earn their livelihood. Both the entities will also promote each other's brand name / image and will popularise the activities undertaken by them. NALCO shall adopt meritorious students of the Gurukul for their education and will also help in the growth of this institution of musical excellence.
The MoU was signed between Shri B.K. Thakur, Director (HR), NALCO and Padma Vibhushan Pandit Hariprasad Chaurasia, in the presence of Dr. Tapan Kumar Chand, CMD, all the directors and senior officials of the company