Nabarangpur:15/8/18;While incessant rain under the impact of a low pressure dampened Independence Day celebrations at many places across the State today, police personnel of Nabarangpur district performed the ceremonial parade on a water-logged field today.
The parade ground in the district was inundated with rain water due to heavy rain since last night. However, the police personnel bearing the rain paraded in ankle-deep water on the parade ground. Earlier, district Collector Ajit Mishra hoisted the Tricolour and received salutes from the contingent.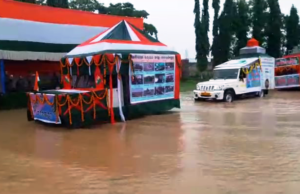 District SP Vivekananda Sharma and other officials also took part in the event. However, school students were not allowed to participate in the Independence Day parade.
After the regional MeT center predicted heavy rainfall accompanied thunderstorm, the Odisha government yesterday had decided not to allow students to participate in the ceremonial parade.