Bhubaneswar:12/8/18: One the most expensive movies of sixty, 'Stree' was screened at Odissi Research Centre Auditorium here on Saturdayon behalf of Film Journalist Forum in their  SMRUTI CHHAYA series,this was 15 th Film in this series.
This Odia classic, which had set many milestones, looked as fresh as dew with its concept and representation even 46 years after it hit the threatres in odisha.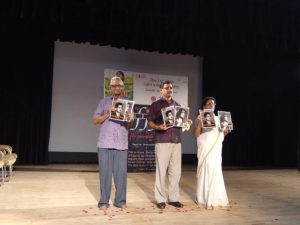 The movie, which revolved around love, trust and dedication, was released in 1968 under the banner of Sarathi Films. The story was by Parbati Ghose under the pen name of 'Srabani'. This was the second directorial venture of the trio of SIDDHARTH namely Parbati Ghose, Gour Prasad Ghose and Thakur Bhai.
Gour and Parbati scored a hat trick of National Awards with 'Stree'. The then President of India V V Giri presented the award.
The audience applauded the on screen chemistry and approach of the most adorable reel-turned-real life couple of Odia film industry.
On the occasion, two books 'Nari Mu Sarbansaha' and 'Scene No-66', as a tribute to Parbati Ghose and Goura Ghose, were unveiled, besides a booklet on 'Stree'. Prior to the screening, personalities associated with the revival of the movie were felicitated.Among others, Culture Secretary Manoranjan Panigrahi, national award winning director Sabyasachi Mohapatra, veteran actor Bijay Mohnaty, Kuna Tripathy, yesteryear actress Tripura Mishra, Anu Choudhury, dramatist Ananta Mohapatra, Pranab Patnaik, Trupti Das and eminent litterateur Ramakanta Rath were present.Writer-lyricist Bijay Malla compeered the programme.