Bhubaneswar:10/8/18; Five noted scientist of Odisha were felicitated with awards at a function organised by the Odisha Bigyan Academy (OBA) here today.
The Biju Patnaik Award for Scientific Excellence given to Prof Uma Charan Mohanty and Prof Debabrat Dash. The Samanta Chandra Sekhar Award was conferred upon Prof Bidyut Kumar Das and Prof Subhashis Tripathy.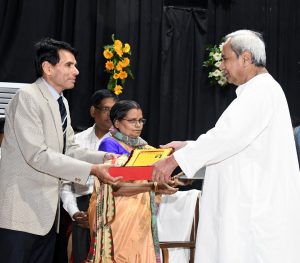 Shrabani Mishra, Pragya Ranjan rout and Dr.Sabyasachi Mishra received the Odisha Young Scientist Award.
"Our objective is to promote the scientific temper with the application of technology. We are working towards making Odisha a knowledge hub of Eastern India," Naveen said after the function.
Among others, Science and Technology Minister Badri Narayan Patra, Department Secretary Nikunja Bihari Dhal and OBA Secretary Dr Prafulla Kumar Bhanja were present.