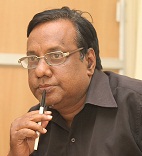 Ashok Palit
Legends are not born, they are made. They live and die with their passions.
Mohan Sundar Dev Goswami was such a legend who had unflinching passion for creativity. He dared to dream making the maiden Odia film even before Odisha was carved out as the first linguistic state in the country.
If it was Dada Saheb Phalke who banked on mythological stories to give India its version of Lumiere's magic, Mohan Sundar delivered the same to the Odias through the first Odia full length feature film Sita Bibah in 1936 – the year of Odisha's birth.
Born on 8 August 1892, Mohan was the pioneering film maker. He was director, screenwriter, musician, singer and actor par excellence. He also produced some of the finest cinemas and the film fraternity rightly considers him as the father and doyen of the Odia film.
In 1936, few days after Orissa achieved its political identity, first Odia film 'Sita Bibaha' hit the silver screen on 28th April that year. Based on a drama written by Kamapal Mishra, the film was Mohan's brain child. With his deep knowledge in 'Rasa Nritya' – a story from the epic Ramayana of the marriage of Lord Rama and Sita, Mohan successfully transformed it into celluloid form.
That time, Odisha did not have basic infrastructural facilities for film production. There was neither studio nor a good director. Mohan himself wrote the script and with the help of Priyanath Ganguli of Kolkatta produced "Sita Bhbaha" which was released on the occasion of Utkal Gourav Madhusudhan Jayanti at Laxmi Takies in Puri.
Mohan's original name was Shyamsundar Devgoswami and his elder sister Ahladani used to call her brother Mohan. That is he came to be known as Mohan Sunda Dev Goswami. He had formed a Rasa troupe that toured all over the state and outside to spread the cultural extravaganza of Odissi music and dance. His troupe had a unique mix of culture and spiritualism. The troupe used to tour for six to seven months a year and the stage shows were a mix of song and acting on the theme of 'Krushna Leela' penned by Jayadev's Gita Govind .The poem became so popular that within a century, it spread to all corners of the country from east to south, west and north and was adapted to dance, music, painting and temple worship. Gitagovinda    was composed specifically for dance performance during the night worship of Lord Jagannatha.
Leading scriptwriters like   Jagamohan Lala, Ramsankar Ray, Aswini Kumar Ghosh and Kampal Mishra used to write play for stage which was based on decent story while Jaganath Pani, Baishnab Pani and Balakrushna Mohanty used to perform dance drama.
At that time Odia Jatra was based on sex based story and slang language, which perhaps influenced Mohan to form Rasadal in Puri. He had melodious voice. Besides, he had the expertise to play 27 musical instruments like  Harmonium, pakhouz, tabla mrudhanga, nal, jodi nagra, sitar, flute and others.
Mohan married at the age of 28 to Mukulmala, who was only 13 years old. After his marriage he formed a formed a Rasadal named Sree Radha Kunjabehari Rasadala. He had written more than 25 dance drama.
Kabichandra Kalicharan Pattnaik, Babaji Baishnab Charan Das, Famous patachitra artist Jaganath Moha Patra and celebrated Odishi dancer Guru Kelucharan   Mohapatra along with several other trainees learned the art of abhinaya, percussion playing, singing and stagecraft from Mohan.
For a creative genius like Mohan, life was not rosy all the way. Once he got busy with film making, his Rasadal suffered a lot. Mohan suffered from leprosy towards the last leg of his life forcing him to live an isolated life. His life was so miserable with no finance; he was forced to   appeal to the people of the state for financial help. A fighter against many odds from his young days, Mohan breathed his last on 11, January, 1948.
Kabiraj Deb Goswami, grandson of producer and director Mohan who made Sita Bibaha, said, "My grandfather took so much trouble to make the film. But unfortunately not a single print is available now".
About the writer :
Shri Ashok  Palit  has completed his graduation from Upendranath College Soro, Balasore and post graduation from Utkal University in Odia Language and literture.. He has also carved out a niche for himself as a scribe of eminence after joining the profession in 1988. Ashok Palit as a cineaste has been active in film criticism for over three decades. As a film society activist, he soared to eminence for his profound commitment to the art film appreciation and aesthetics of cinema. His mode of discourse is often erudite but always lucid and comprehensible marked by a perfect acumen so rare in the field. A   film aesthete with an immense fond of critical sensibilities, he wrote about   growth and development of odia cinema in New Indian Express, The Times of India, The Hindustan Times, The Asian Age and Screen. He has been   working as an   Editor for   Cine Samaya from   2002-2004.. He had made solid contribution on cinema in many    odia  dailies and weekly such as Samaj, Prajatantra, Dharatri, Samaya, Satabadi, and weekly Samaya. Now   he is  active in  film society movement as a secretary of premier film  society in state capital  named Bhubaneswar Film Circle, besides he is  also assigned as a  working president of Orissa Film  and Media Association, which  organization has been working for the  growth and development of odia  new wave  cinema and  media since 1992, f or  his  contribution  towards film   journalism  many  institution    has been  awarded among  the   remarkable award  as   best film  journalist is   Chitrapuri  Award. Chalachitra Jagat Award, Banichitra Award, Kala Nidhi Saman. He has also written a book on odia new wave cinema titled Odiacinemara Vinadhara
writer can contact :palitashok 13@gmail.com