Himachal Pradesh:7/8/18:he Minister of State (I/C) for Youth Affairs and Sports & Information and Broadcasting Col. Rajyavardhan Rathore today flagged off an all-women expedition to Mt. Manirang (6593Mt/21631 ft) in Himachal Pradesh. The expedition commemorates the silver jubilee of 1993 Women Everest expedition.
Col.Rajyavardhan Rathore commended the effort of India Mountaineering Foundation to send the all women expedition team to Mt. Manirang to commemorate the silver jubilee of the 1993 expedition. He said that it sends a wonderful message to the society, that if given an opportunity, the girls can also rise to the challenges and make a mark for themselves. The Minister said that it also indicates that the children should be given an opportunity to decide as what they want to do in the future. Col. Rathore said that Prime Minister has been saying that those who play will flourish. He said the expedition to Mount Manirang includes the girls from some states which have no snow or mountains and it shows the grit and determination of the girls to opt for such a challenge.He emphasised on the need for more funds and exposurefor adventure sports in the country.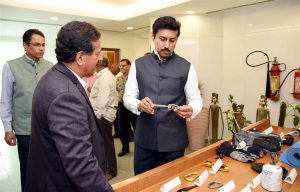 The 19-member expedition team to Mt. Manirang is being led by Ms Bimla Negi, a veteran mountaineer who was a member of the 1993 team. The team also includes nine members of the 1993 team in addition to young women mountaineers, who hail from different states of the country like Uttrakhand, West Bengal, Sikkim, Jharkhand, Maharashtra, Madhya Pradesh, Haryana, Gujarat, Manipur and Himachal Pradesh.  The expedition is expected to make the summit attempt around 24th August, 2018.
The Indo-Nepalese women's Everest expedition in 1993 was the first all women expedition, launched by Indian Mountaineering foundation,funded by the Ministry of Youth Affairs and Sports. The 21-member team was led by Ms. Bachendri Pal. The historic expedition set up several world records at the time which included the largest number of persons (18) of a single expedition to climb Mount Everest, largest number of women (six) from a single country to climb Mount Everest. Ms. Santosh Yadav, member of the team, became the first woman in the world to climb Mount Everest, while Miss Dicky Dolma became the youngest women (19) years in the world to climb the highest peak in the world.