Bhubaneswar:6/8/18:At the induction ceremony for Odisha Power Transmission Corporation Limited – OPTCL recruitees, Chief Minister  Naveen Patnaik urged the newcomers to follow the mantra of 3TS – Teamwork, Technology and Transparency to deliver on state's mission of PowerForAll. Highlights from his address: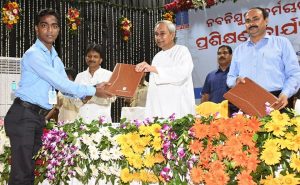 • OPTCL an excellent career avenue in Odisha with 7th Pay Commission being implemented along with other allowances, modern talent acquisition process and promotional avenues
• OPTCL is implementing state-funded Odisha Distribution System Strengthening Project (ODSSP) worth ₹3,842 crore which has resulted in significant improvement of voltage profile in the state
• A front runner in implementing high-end technology like SMART GRID, SCADA, Advanced Metering Infrastructure etc. in the country, OPTCL has the highest System Availability of 99.99%, which is the highest in country
Chief Minister Shri Patnaik congratulated the recruitees and advised them to work with dedication and commitment towards the growth of Odisha's power sector.