Bhubaneswar:6/8/18:Chief Minister Shri Naveen Patnaik stressed on globally showcasing competitive advantages of the state to the investor community for augmenting the growth of manufacturing sector at MIO2018. Highlights from review of the preparation for Make In Odisha Conclave 2018: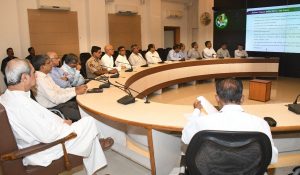 – Sector-specific seminars to showcase business ecosystem in each sector; each event to be benchmarked to global standards
– Focus on bringing more diversified industries to provide higher employment opportunities to the people
– Policies on biotechnology, ESDM, food processing, healthcare investment, textiles, tourism and women empowerment being prepared in tune with objectives of the event
Chief Minister Shri Patnaik said that Odisha is rapidly becoming one of the most preferred investment destinations in the country. At the Make In Odisha Conclave 2018, to be held in Bhubaneswar from November 11 to 15, all Departments to plan and coordinate efforts to present Odisha as an investment destination par excellence.