Bhubaneswar:6/8/18: A book titled 'Naveen Patnaik', the first political biography of one of India's most popular Chief Ministers, authored by veteran journalist Ruben Banerjee was released here at Bhubaneswar Club on Sunday.
In this book, Ruben lifts the veil from the mysterious politician of Odisha. From being Biju Patnaik's socialite son who entered politics after fifty to his record of winning every election he has ever contested — the book covers Naveen's life in politics and decodes the formula of his success.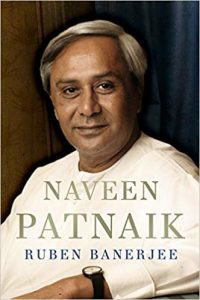 About the Book:
n 1997 when the beloved Odia politician Biju Patnaik died, his son Naveen Patnaik stepped forward to contest the by-election to Biju's Lok Sabha seat. Then fifty-one years old, Naveen, who once ran a boutique in Delhi, had never contested an election or held public office. He spoke no Odia and was more at home in Lutyens' Delhi than in the dirt-poor villages of Odisha. Partymen saw Naveen only as a magnet for attracting voters sympathetic to Biju, not as a genuine politician or leader.
But Naveen proved his sceptics totally wrong. He wrested absolute control of the party and won every election he contested. He has been elected to the Lok Sabha three times, and as chief minister of Odisha four times. Even the Narendra Modi wave of 2014 didn't make a dent on Naveen's numbers. But beyond electoral and party politics, Naveen has an abiding connect with his voters. His development and administrative records are exemplary. For instance, in 1999 when a cyclone hit Odisha, it left 10,000 dead. But under Naveen's watch when a similar cyclone hit Odisha in 2013, an efficient state machinery ensured that only twenty-one lives were lost.
In this book, the veteran journalist Ruben Banerjee, who has followed Naveen since his early days, decodes the success of the enigmatic politician who stays in the shadows and rarely gives interviews. This is the thrilling story of an unlikely and seemingly unbeatable politician who may well hold the keys to power in the 2019 general elections.