Bhubaneswar:4/8/18: In a major reshuffle, the Odisha government  transferred as many as 21 senior IAS officers at the State Secretariat on 3rd,August,2018

D.V.Swamy, RDC (ND) Sambalpur has been appointed as Commissioner-cum-Director, Employment and CEO, Odisha Skill Development Authority.

Similarly, Girish S.N, Director, Special Project, Panchayati Raj Department, has been appointed as MD, Odisha State Co-operative Bank.

Mahendra Kumar Mallik, Commissioner-cum-Director, AH&VS was appointed RDC (ND) Sambalpur with Additional charge RDC (CD) Cuttack.

Dr.Jawale Nitin Bhanudas, Director, Tourism and MD of OTDC have been appointed as Additional Secretary to Industries Department.

Srikanta Prusty, Addl. Secretary to Higher Education Department was posted as Additional Secretary to Handloom, Textiles & Handicrafts Department.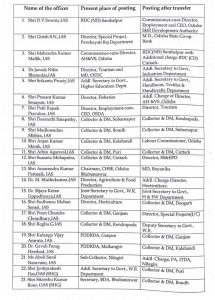 Prasant Kumar Senapati, Director, Fisheries was assigned Additional Director, AH &VS.
Patil Rajesh Pravakar, Director, Employment-cum- CEO, OSDA was shifted as Director, Tourism.
Dasarathi Satapathy, Collector of Subarnapur district has been appointed as Collector of Kendrapada district. Similarly, Madhusudan Mishra, Collector of Boudh district was transferred as Collector of Subarnapur district.
Likewise, Arlan Kumar Manik, Collector of Kalahandi district has been appointed as Labour Commissioner.
Arbin Agarwal, Collector of Puri district has been shifted as Collector of Cuttack district. Similarly, Susanta Mohapatra, Collector of Cuttack district has been appointed as Director, SS&EPD.
Besides Amarendra Kumar Pattnaik, Chairman of CHSE, Odisha Bhubaneswar got a new charge of MD, Boyanika.
Dr M Muthukumar, Director, Agriculture & Food Production have been handed over Additional charge of Director, Horticulture.
Dr Bijaya Ketan Uppadhyaya, Joint Secretary to government, WR Department has been transferred as Joint Secretary to government, H & FW Department.
This apart, Sudhansu Mohan Samal, Director of Horticulture has been appointed as Collector of Deogarh district.
Prem Chandra Choudhury, Collector of Ganjam district was appointed Director, Special Projects (I/C).
Reghu G, Collector of Kendrapada district has been appointed Deputy Secretary to government, W.R.
Kulanga Vijay Amruta, PDDRD of Ganjam has been appointed as Collector of Ganjam district. Similarly, Gavali Parag Harshad, PDDRDA of Malkangiri district has been transferred as Collector of Kalahandi district.
Aboli Sunil Naravane, sub-Collector of Nilagiri was given Additional charge of PA, ITDA.
This apart two senior OAS cadre—Jyotiprakash Das, (SHG) Addl. Secretary to government, W.R. Department and Sitanshu Kumar Rout, (SI-IG) Secretary, BDA, Bhubaneswar have been appointed as Collector of Puri district and Collector of Boudh district respectively.