Bhubaneswar:3/8/18: IPS officer Satyajit Mohanty today took charge as the Twin City Police Commissioner at the office of Commissionerate Police here replacing YB Khurania.
After receiving guard of honour at the office of Commissionerate Police, Mohanty took the charge from the former Police Commissioner.
With this, the 1988-batch IPS officer has become the sixth Police Commissioner of the Twin City. Mohanty had started his career as an ASP in Jeypore in 1990. Meanwhile, Khurania has been transferred as the ADG of Police (Provisioning).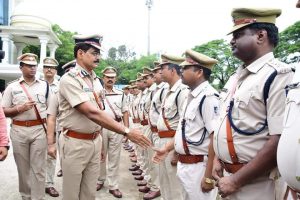 "It's a huge responsibility and an opportunity as well, to serve the people. I will try to gain the confidence of the public and ensure better policing," said Mohanty.
He said the upcoming Men's Hockey World Cup 2018, scheduled to be held at Kalinga Stadium here in November-December will be a challenge for the commissionerate police.
The change of guard came in the backdrop of rise in crimes like theft, burglary, murder, rape, molestation. Besides, circulation of obscene videos on social media has also emerged as a challenge for the city cops.