Cuttack:29/7/18:The Fifth Annual Convocation of the students of National Law University, Odisha (NLUOdisha) was held on 29 July 2018 at the Amphitheatre of National Law University Odisha, Cuttack. Hon'ble Mr. Justice Dipak Misra, Chief Justice of India and Visitor NLU Odisha presided over the occasion and delivered the Presidential Address. Hon'ble Mr. Justice Michael Kirby, Former Judge, High Court of Australiawas the Chief Guest for the occasion and delivered the Convocation Address. Justice Kirby was also conferred with the Degree of Doctor of Laws (LLD) (Honoris Causa) by the university. Hon'ble Mr. Justice Vineet Saran, Chief Justice of Odisha High Court and Chancellor, NLUOdishaawarded the degrees and also address the gathering.Sitting Judges of High Court of Orissa, Senior Advocates, Judicial Officers were among the other dignitaries present.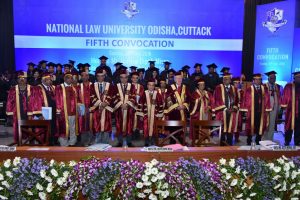 A total of 167 graduands were awarded degrees, including 49 LLMcandidates, and 118 from undergraduate courses – 57 and 59 candidates respectively from the BA LLB and BBA LLB streams. Additionally, Justice Kirby was awarded the degree ofDoctor of Laws (LL.D.) honoris causa.A total number of 18 gold medals were given to students in the convocation this year.The Convocation Address was delivered by Hon'ble Justice Michael Kirby, Chief Justice of India and Chief Guest for the occasion.
Out of the 18 gold medals, NLU Odisha has instituted six, while various dignitaries of the legal fraternity have donated the remaining twelve.Ms. Meghmala Mukherjee received the highest number of gold medals- sevengold medals.She was awarded the M.L. Mitra Memorial Gold Medal for first rank in B.B.A L.L.B (Hons.), SKS Juris Legal Group Gold Medal, Gagan Bihari Das Memorial Gold Medal, Ras Behari Ray Gold Medal, Nisamoni Devi and Bhagabat Charan Mohanty Memorial Gold Medal, Satyakamal Memorial Gold Medaland the Smt. Pavani Easwara Lakshmi Memorial Gold Medal
Ms. Diya Dasgupta was awarded three gold medals – University Gold Medal for third rank in BA LLB, State Bank of India Gold Medal and the Ananta Misra & Annapurna Misra Gold Medalfor Best All-Round Female Student.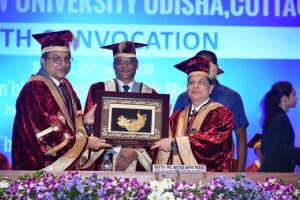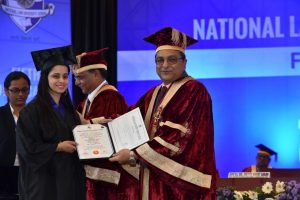 The Dinabandhu Sahu Memorial Trustfor first rank in BALLB was awarded to Shobhit Ahuja. The University Gold Medal for second rank in BA LLB was awarded to Swastika Chakravarti. University Gold Medals for second and third rank in BBA LLB were awarded to Vinti Agarwal and Ankita Sen. The Shri Bichitrananda Mahanty Memorial Gold Medal for All-Round Male Student was awarded to Vishesh Mehrotra, the Madhusudan Mohanty Memorial Gold Medalto S. Vivek, and the University Gold Medal for Highest Score in Intellectual Property Laws in the B.B.A.,LL.B. (Hons.) /B.A.,LL.B. (Hons.) Degree was awarded to Shreya Singhal. The University Gold Medal for the first rank in L.L.M for batch 2017-18 was awarded to Bhallamudi Venkata Mallela Rakshith.
The Registrar of NLUOdisha Dr. Dolly Jabbal, a host of dignitaries from the legal fraternity, parents of students, staff of NLUO were also present in the occasion. Three journals – NLUO Law Journal, Human Rights Law Journal and NLUO Students Journal were released