Bhubaneswar:29/7/18:
In much grandeur and amidst the whose-who of Odisha, the apparel brand "G" by Dr. Kumar  Guru Mishra was launched at Mayfair Convention, Bhubaneswar on 29th July, 2018.The brand was jointly launched by Sri Tara Ranjan Patnaik, the Chief Guest and Smt. Jagi Mangat Panda, the  Guest  of Honour, his latest collection "CHITRAA ASSEMBLAGE" and website  www.kumargurumishra.com was unveiled in the presence of Guest Celebrity, Ollywood Actress, Ms. Archita Sahu.The collection was inspired from the age-old art of Odisha "Pattachitra" and was presented in a unique  way  to  the  audience.  The  collection  was  specifically  crafted  keeping  in  mind  the changing tastes of people and the people present appreciated the concept.This event for the first-time-ever in the history of Odisha brought together all the Odisha-based models under one roof to express their association with the brand. The models were felicitated and expressed their gratitude to the brand for such an opportunity to represent the tradition of Odisha through couture. The brand also promoted artists of Odisha who had represented the state at an international platform, Ms. Padmalya Nanda, Little Miss Universe 2017 and Maitri Monali Pradhan, Miss Teen International Most Talented who was also KIIT Nanhipari 2016.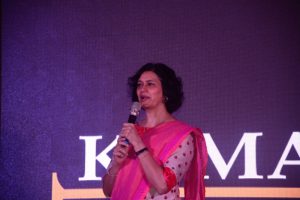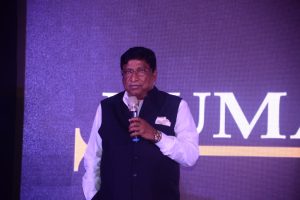 "There is no dearth of talent in Odisha and if we want we can achieve great heights. Belonging to the land of Lord Jagannath, I believe fashion comes naturally to us. I had the dream to design couture since childhood and I have always wanted to showcase my collections to the world. This event marks my beginning in the industry of fashion and I have attempted to create something different using the age-old art Pattachitra for the first- time ever and hope people love it. The new concept introduced at the ramp was loved by one and all and that was really overwhelming" said Dr. Kumar Guru Mishra, Designer, Brand "G"."The day I saw his collections I fell in love with all of it. Being a doctor, doing this stuff, I was amazed and wonder how he manages to do all this so brilliantly. I am going to be his showstopper  at  Bangalore  Fashion  Week  and  his  collections  for  that  show  are  just beautiful. I am really excited about the show. I wish him all the best in his future endeavors and keep on creating such beautiful couture." said Ms. Archita Sahu, who was donning an attire from his collection – CHITRAA ASSEMBLAGE."I am happy that this young generation from Odisha is doing such wonders.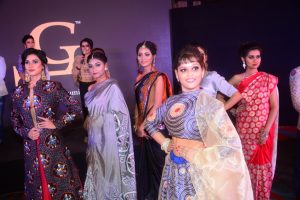 These people are the ones who can change the current scenario of Odisha and bring about a change in the society. I wish him all the best for his future and hope that he achieves many laurels in his life both in his medical and designing field" said Sri Tara Ranjan Patnaik, Chairman, Falcon Marine Exports Ltd."I am overwhelmed with the fact that I came to saw such beautiful talents of Odisha under one-roof today. These people are the torch-bearers of the society and provided the right guidance and support they can do wonders for Odisha. Dr. Mishra has proved there is nothing a man can't do. If a person truly wants, he can achieve all the success in his life. I wish him a bright future ahead and wish he places Odisha in the global platform" said Smt. Jagi Mangat Panda, Managing Director, Ortel Communications.Dr. Mishra expressed his special gratitude to Sri Pankaj Kumar Sahu, his sisters and parents."I am happy to see him grow. I have always said, he is that person, "Jiye bhiatru bi sajaye, ebang baharu bi sajaye". The day I interacted with him, I knew he has a certain charm, a charisma and he will go miles. I wish him all the luck in the world and will keep on supporting him to see him achieve the greatest heights in the world of fashion." said Sri Pankaj Kumar Sahu, Founder, Odstin Creations
.
.