Bhubaneswar:28/7/18; In a joint eviction drive, the Bhubaneswar Development Authority (BDA) and Bhubaneswar Municipal Corporation (BMC) and National Highways Authority of India (NHAI) today bulldozed the unauthorised structure of ISKCON Temple and adjoining areas in Nayapalli, along the NH.
During the eviction process four squads from BDA-BMC, two platoons of APR police, one section of women police from the Commissionerate Police, a team with fire brigade from Odisha Fire Services were present with one enforcement squad of Bhubaneswar Smart City Limited. Four excavators were pressed into service, which started at 10.30 am and continued till 2.30 pm.Not only the ISKCON Temple, but the entire stretch from Krishna Mall up to CRP Square with a width of 40 feet and length around 2 km was made free from encroachment. More than 2,400 square feet government land (of NHAI) was made free from encroachment in front of ISKON Temple.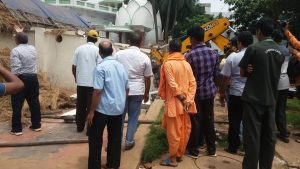 However, the ISKCON eviction process hogged the limelight as during the entire eviction process two persons from the joint eviction squad and one onlooker were injured in the stone pelting incident by the devotees of the ISKCON Temple.
Two officers from the BDA Enforcement Squad were injured in the stone pelting activity and an onlooker Nalini Kanta Tripathy, an auto rickshaw driver, was also injured on his forehead.
However, an ambulance of Sparsh Hospital, which was kept stand-by with the eviction drive, was useful as Tripathy was taken to the hospital and later released after nine stitches on his head and fast aid at Sparsh Hospital.
An FIR was also lodged with the Nayapalli Police by the enforcement officer of BDA on the incident and the unruly behaviour shown by the devotees of ISKCON Temple during the enforcement drive.
The eviction under the Central Eviction Monitoring Committee (CEMC) was necessitated for widening of NH and to control flash flood situation in front of the ISKCON Temple as per the order of Vice-Chairman BDA-cum-Commissioner, BMC.