Bhubaneswar:27/7/18; Prior to the international mega sporting event of Men's Hockey World Cup -2018 at the venue here this year and also as a part and parcel of Biju Yuva Vahini's multi-faceted socio-cultural programmes under the aegis of Odisha Sports and Youth Services Department's State Yuva Kalyan Parishad, Chief Minister Naveen Patnaik today launched Biju Yuva Vahini's Green Odisha campaign from Kalinga Stadium.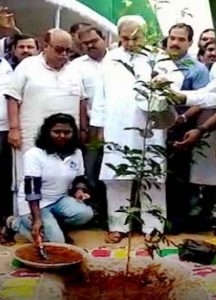 Inaugurating the statewide massive plantation drive by the Biju Yuva Vahini brigade, the Chief Minister on the day planted a sapling on the premises of Kalinga Stadium here in the capital city and blew the Green Odisha bugle.
According to the planned course of action chalked out and taking advantage of the current rainy season, the Biju Yuva Vahini volunteers will not only plant saplings in the Kalinga Stadium campus, but also around 30 lakh plant saplings all over Odisha.
This campaign will be extended to all Gram Panchayats (GPs) and urban pockets across the State as the aim and objective of this green revolution is to instill among the general public love for our environment as well as create awareness so that we all love nature and dedicate ourselves to its care and conservation in our daily life. The volunteers of Biju Yuva Vahini will now undertake various social forestry programmes like 'Mission Green Mahanadi' of the Odisha Government and 'Green India Mission' under the Mahatma Gandhi National Rural Employment guarantee Scheme (MGNREGS).