Koraput:(Malkangiri)27/7/18:Dedicating  GururpriyaSetu to the people on 26 th,July,2018Chief Minister Shri Naveen Patnaik described the 151 cut-off villages as Swabhiman areas and announced special package of ₹100 crore to fastrack development in the region. Focus on livelihood creation, connectivity, electrification, drinking water and healthcare. Details of the package: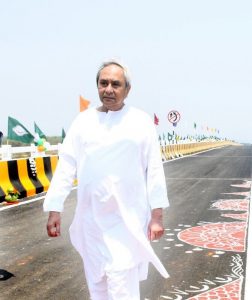 – Over 5 crore fish to be released in to Chitrakonda reservoir; benefit to 2,000 fishermen families
– 7 major bridges & roads from Muktiput to Jamuguda and Panasput to Jodamba
– 33/11 KV Sub-station at Badapada
– 4 Piped Water Supply projects at Badapada & Papermetla and 100 Tubewells
– Health Sub-Centres in 6 GPs
The 910 metre long GururpriyaSetu was completed in a short span of 4 years. A symbol of peace, progress and cooperation, the bridge will become the identity and Swabhiman of Malkangiri district.