Boudh:24/7/18; In a bid to rejuvenate Mahanadi, Chief Minister Naveen Patnaik on Tuesday inaugurated the 'Green Mahanadi Mission', during his visit to western Odisha to review flood situation.The Mission will plant over 2 crore saplings in 1,303 villages along the river in 15 districts, including more than 63 lakh saplings in next year. In five years, the Mission will cover all major rivers covering 16,500 hectares and avenue plantation on 500km of roads.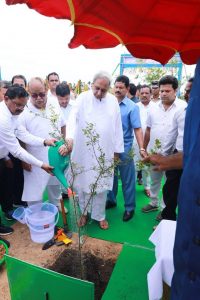 The plantation drive will be taken up on both sides of Mahanadi, Ib and Tel rivers to increase ground water recharge capacity.
The State Government had kicked off 'Green Mahanadi Mission' on the occasion of World Environment Day on June 5.
The mission will be implemented jointly by the departments of Forest, Horticulture and Watershed Development.
Over 5 crore saplings will be planted over 41,000 hectares of land on both sides of major rivers of the state and 5,000 km roadside within five years at an expenditure of around Rs 5,000 crore.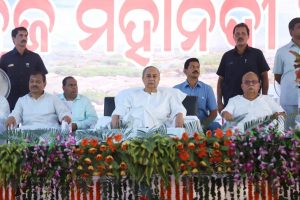 Under the mission, a green belt having a width of 1 km will be created on both sides of Mahanadi beginning from the place where the river enters Odisha till Paradip where it merges with the Bay of Bengal.
Two crore saplings, including fruit-bearing trees, will be planted on both sides of the river during 2018-19 fiscal.