Bhubaneswar23/7/18;: Chief Minister Naveen Patnaik unveiled the first Tribal Atlas of Odisha- a compendium of valuable information on tribal regions in the state, at the secretariat on Monday.
The book published by SC and ST Research and Training Institute in collaboration with Academy of Tribal Language and Culture (ATLC) contains key demographic indicators like literacy, sex ratio & education of the tribal people in Odisha.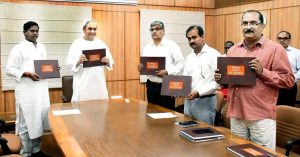 The atlas contains 60 plates of maps along with corresponding graphs and diagrams which portray the distributional aspects of the tribal population in Odisha, ecological setting of the tribal habitats, their socio-cultural attributes such as linguistic/dialectical affinity, sex composition and literary levels.
The book t will be available at the SC & ST Research and Training Institute located at Nayapalli in Bhubaneswar.
The atlas has been prepared on the basis of the data of 2011 Census and other relevant statistics, which is said to be the first of its kind in the country.