chennai:8/7/18;The Vice President of India, Shri M. Venkaiah Naidu has said that quality of education in our medical colleges is the life blood of India's healthy future and asked the medical professionals to be empathetic towards patients while giving treatment. He was addressing the 30th convocation of Tamil Nadu Dr. M.G.R. Medical University, in Chennai today. The Minister for Health, Tamil Nadu, Dr. C. Vijaya Bhaskar, the Minister for Fisheries, Tamil Nadu, Shri D. Jayakumar and other dignitaries were present on the occasion.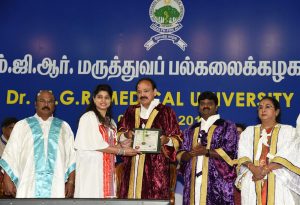 The Vice President said that universities must offer the best learning environment to our students and stressed on the need to learn from the best minds in the world and we cannot grow if we are insulated and isolated. We cannot contribute to the world of knowledge if we are unaware of the state-of-the-art in any discipline, he added.
The Vice President asked faculty to encourage the students to delve deeper. This will be possible only if the faculty members are themselves good listeners and good lifelong learners, he added.
The Vice President said that quality of healthcare depends mainly on the quality of health care professionals and asked medical professionals and Doctors to have deep understanding and empathy. Young Doctors must work in rural area before getting their first promotion, he added.
The Vice President said that Doctors have a number of emerging opportunities in the present Indian context. He further said that they must be agile to adopt and adapt the best global practices for the benefit of our population. They must constantly set more ambitious goals and strive to achieve them, he added.