Cuttack:7/7/18; Veteran cinematographer Ashok Kumar Swain breathed his last today at his residence in Cuttack. He was 72. He is survived by one son, two daughters and wife Chhanda Swain.
Known as Babuli bhai in the odia cinema fraternity, Swain was conferred  Jayadev Award in 2017 for his lifetime achievement in the field of Odia cinema.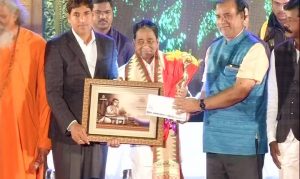 With over 40 years of experience Swain has worked with a variety of cameras starting from Black and White to Eastman colour and from Anamorphic to Cinemascope like Mitchell, ARRI, Bolex, Panavision and various types of digital cameras.
Born in Cuttack city on January 10 in 1948 was a lovable man in the film industry for his simple nature and humble attitude.
After obtaining a Diploma degree in cinematography from S.J. Polytechnic, Bangalore, in 1969 he started working in various studios like AVM studios in Chennai, RK studios in Mumbai and has worked in various films. He then went onto work at Mysore as an assistant cameraman for about a year and half.  In 1973 he joined "Doordarshan" as a cameraman.
In the start of his career he even worked as an assistant cameraman for an INDO-RUSSIAN children film "THE BLACK MOUNTAIN" with Russian Director Alexander Zagurdi and Indian Maker M.S. Satayu in the year 1970, shot at the Karapur forest in Karnataka.
While being in job, he took leaves without a pay and cinematographed for his first film in B/W "SAMAR SALIM SAIMON" in the year 1977, later released in 1979.
His work was so appreciated that projects came to him one after the other with SESHA PRATIKHYA, SUBARNA SITA, BATASHI JHADA, PARA JHIA GHARA BHANGENA and others. Released in the year 1982, he did his first color film as a cinematographer with "MU TUME O SE".
His other films are RADHA, SANKHA SINDURA, PUJA PHULA, NALA DAMAYANTI, JAYADEV, SAHARI BAGHA, SATA KEBE LUCHI RAHENA, BHULI HUENA, SASTI, CHAMANA ATHA GUNTHA, GOPA RE BADHUCHHI KALA KANHEI, BADA BHAUJA, HISAB KARIBA KALIA, DADAGIRI, MAA JAHARA SAHA, NYAANYAYA, BOHU HABA EMITI, PRATISODH APARADH NUHE, KURUKHETRA, KATHA RAHIBA KALAKALAKU, …
Not only this he also has cinematographed for various short features like PHATA KAPALA, SALBEG, RATRI, BANA PHULA and a film on Goti Pratha for Government of Odisha on the tribes.
Slowly when the digital medium tried to overtake the celluloid in cost cutting and other related issues, the Television medium started booming and TV series came into being.  With this Babuli Bhai also found a gap and entered the arena to work on television. He has worked with TV shows like Laxmi Puja, Prativa, Haie Phoola Gacha, Tokei, kahani, Malaya, Palasa, Maluluni Aeera Kahani and about 100 more in Odia and Hindi in Bhubaneswar and Delhi.
His work dint only limit to films, shooting for documentaries was also love. He has also won a National Award for a Documentary "THE EMPLIMENTS" directed by Ghanasyam Mohapatra. Among documentaries which he cinematographed are ODISSAN HANDICRAFT, ODISHA TOURISM, SHREE JAGANNATH, and more… His film SOMA 'O' BUDA a tribal film on the BONDA tribes was also screened in various film festivals. Not only this he has also won the Chitrapuri Subarna Jayanti Samman along with best cameraman award for his first color film MU TUME O SE in 89', and a lot more.