Bhubaneswar:5/7/18;Chief Minister Shri Naveen Patnaik interacted with people from eight blocks of Bhuban (Dhenkanal), Komana (Nuapada), Garadpur (Kendrapara), Korei (Jajpur), Kashinagar (Gajapati), Patnagarh (Balangir)
Lahunipada and Kutra (Sundargarh) during AmaGaonAmaBikash session.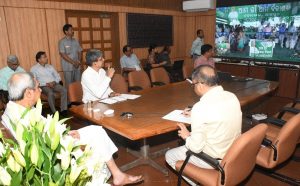 Speaking directly to the Chief Minister, the villagers brought up various suggestions for accelerating development in their area. He then promptly sanctioned 1398 development projects worth ₹35.11 crore for 169 Gram Panchayats.
He commended the keen interest shown by people to be a part of the development process of their area and urged them to keep bringing up their valuable feedback.
He directed officials to initiate work on all sanctioned projects immediately and ensure that they are completed well before the deadline for maximum benefit to the people.