Bhubaneswar:30/6/18; Renowned  poet Ramakanta Rath was named to get Atibadi Jagannath Das Samman, the highest honour of Odisha Sahitya Akademi.
The eminent poet will receive the prestigious award for the year 2018 for his immense contribution to Odia literature.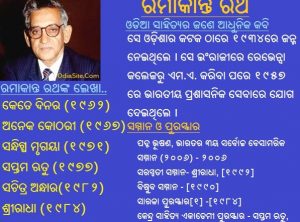 Some of the poems including 'Kete Dinara', 'Aneka Kothari', 'Sandigdha Mrigaya', 'Saptama Ritu' and 'Sachitra Andhara' are considered as his best works in the Odia poetry. A number of his poems have also been translated into English and different Indian regional languages.
Earlier, he was conferred the Sahitya Akademi Award in 1977, Saraswathi Samman in 1992, Bishuva Samman in 1990.
He has also received country's third highest civilian honour, the Padma Bhushan in 2006.
He was the vice president of the Sahitya Academy from 1993 to 1998 and the president of the Sahitya Akademi from 1998 to 2003 in New Delhi.