Bhubaneswar:28/6/18;At Tribes Advisory Council Meeting, Chief Minister  Naveen Patnaik underlined development of tribal areas, welfare of tribals, preserving & promoting their culture as top priority for Government. He highlighted various programmes for accelerated development of tribals:
• Odisha is blessed to have 62 Scheduled Tribes including 13 Particularly Vulnerable Tribal Groups constituting for 22.85% of total population of the state
• 100% assistance and scholarships from 2014-15 for all ST students of Odisha in National-level institutions to take care of the entire cost of education
• Special Development Councils in nine tribal districts to preserve and promote tribal culture, sports & development needs
• Distribution of 4.15 lakh individual rights covering 6.14 lakh acres and 6336 community rights covering 3.28 lakh acres under Forest Rights Act. Odisha continues to be No.1 performer in the entire country in FRA implementation.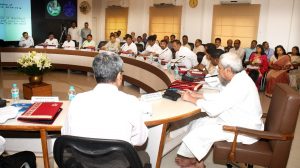 • Successful implementation of Odisha Tribal Empowerment & Livelihood Programme (OTELP); upgraded to OTELP Plus covering additional 2695 villages & benefitting 1.42 lakh households
• Odisha PVTGs Empowerment & Livelihood Programme (OPELIP) from 2016-17 benefitting 62,000 Particularly Vulnerable Tribal Group households
Chief Minister Shri Patnaik reiterated commitment towards economic empowerment, enhanced livelihood opportunities, education and skill development for tribal people in the state.